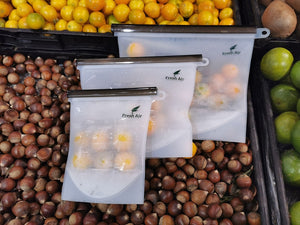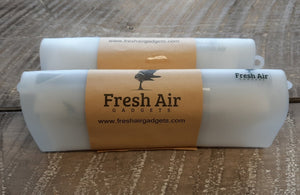 Product image 1

Product image 2

We can all help  and save our environment! Local company Fesh Air Gadgets has Silicone bags available. Use these bags to store products. 
Silicone Bags: Silicone bags are microwave, oven, freezer, fridge, and dishwasher safe. The bottom design eliminates those tough-to-clean corners and makes washing easy and effective. Replaces any plastic storage bag. Multipurpose reusable bags are great for boats, RVs, cottage, camping, tiny homes, or any place with limited space. No more plastic storage drawers. The hermetic airtight seal completely isolates the bag's contents and makes sure your food stays FRESH! Made from food-grade silicone, free of chemicals and dyes. Comes in a set of 3
Fresh Air Gadgets was born out of the love for Georgian Bay. Owner Margaret Hamelin noticed the rapid increase in plastics in the local waterways. Fresh Air Gadgets sources environmentally friendly products that replace one time use plastics.