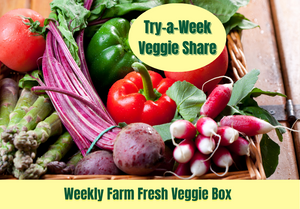 Farm2Door's weekly vegetable selection is a seasonal collection of the finest local produce our growers have on offer. This veggie selection contains 8-10 items and changes every week since new produce becomes available as the season progresses.   
The Farm Fresh Veggie Selection supplies an average 2-4 person household with fresh vegetables for the week. It's priced at $45 per week and comes with an easy to follow seasonal recipe to help you cook and eat locally!
In this week's Veggie Selection (week of  Dec 3) :
Lettuce mix
Swiss Chard
Rainbow Carrots
Large Spanish Onion
BUtternut Squash
Potatoes 2 lbs Huckleberry
Green cabbage
Lettuce Romaine
Daikon Radish
PLUS: Seasonal Recipe (Valued at $3)

With the purchase of a Farm Fresh Veggie Selection, you get a sample of our CSA program. CSA stands for Community Supported Agriculture and this  is exactly what Farm2Door is all about. Our CSA's run year round and connect farmers with local buyers and thus keeps local food in our community.
Some of the participating local growers in our weekly CSA: Honey Greens Farm, Operational Grow, Whispering Pines,  Cookstown Greens,  A State of Plenty,  Sunny Nature Farm, Wyeview Farm, Birch Farms, Camphouse Farm, Maple Wind Farm & Bulbs of Fire 
.