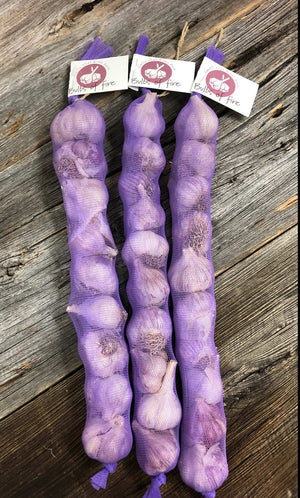 Garlic Sleeves, great purchase for a local food giveaway or stocking up for Fall and Winter.  Each sleeve contains 10 to 12 medium bulbs on average of Majestic garlic
Majestic is a Porcelain garlic. Has 4 to 5 plump of medium hot cloves and stores until the end of March under ideal conditions. Garlic needs dry, cool air and stable temperature to make it into next Spring.

Bulbs of Fire is a local garlic supplier, operational since 2012. Specialising in heirloom garlics and gourmet garlic products. Owners Bart and Simone Nagel are longtime local food entrepreneurs and have also founded Farm2Door early on in the pandemic.