Organic Yellow Popcorn Kernels (500g)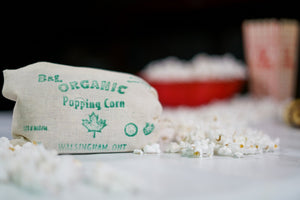 Uncle Bob's Organic popping corn is one of a kind. It is certified organic and has its own rich texture and taste. Large yellow butterfly variety that is pleasing to ones palate. Comes packaged in its own unique cloth sack with the nutrition facts clearly labeled. Give it a try, it is hard to resist! Packaged in 500g bags.
Ontario Popping Corn Company is an Ontario family-run business, which grows exceptional fresh, healthy and organic popcorn. Located down by the shores of Lake Erie, The Ontario Popping Corn Company offers its own 100% Canadian Grown Popcorn, Non-GMO and grown Pesticide Free. Keep in cool dry area at all times for storage.