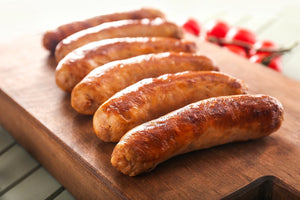 Chicken Sausages, 4 x 5oz/140g per package (560g)  Gluten Free
Ingredients: chicken, turkey, water, salt, spices, corn starch, corn flour, whey protein, sodium phosphate, dextrose, mustard, sodium ascorbate, soy, sodium nitrite.
Ian and Shannon Daines at Falkenridge Farm, believe in raising and growing food in a natural and sustainable way. Although they are not officially certified organic, Ian and Shannon have always followed most organic tenets. No chemical pesticides, no chemical fertilizers, no GMOs. Their layers and some of their broilers also receive certified organic feed - everybody else gets a non-GMO diet, they never use antibiotics, and everybody's out on pasture getting their greens!