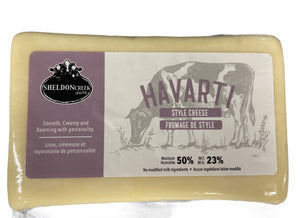 Harvati 454g

Smooth, Creamy and beaming with personality but mild enough to sult all palates.

No modified milk ingredients.
Sheldon Creek launced a small batch of cheese products in partnership with Brights Cheese and Butter.
Sheldon Creek Dairy believes in doing things the way nature intended. That means keeping milk in its natural form: Sheldon Creek Dairy milk is not homogenized, leaving milkfat globules intact to carry important nutrients like vitamins A and D to the body.
Sheldon Creek Dairy cows are fed crops grown right on their own farms. They graze on pesticide and herbicide-free grass in warm months and receive hays, grasses, and silage grown on their own farms during snowy winter months.