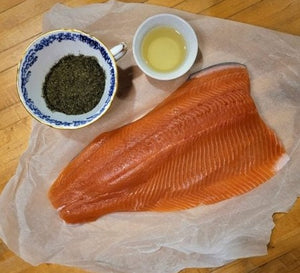 Coho Salmon 2 lbs pack (Frozen)
Mild-flavoured with rich taste. Raised on Springhills Trout family's eco-farms in Grey County with plenty of fresh water, low densities and sustainable diets. 
Humanely harvest, fillet, individually vac-pack and freeze within a day. 
Springhills Trout Farm is a small scale operation in Grey County, Ontario. The farm is a second-generation family business with four land-based fish farms in Grey County. Owners and siblings Arlen and RJ Taylor pride themselves on humane and sustainable practices resulting in incredible tasting, fresh fish.