Extra Virgin Cold Pressed Olive Oil 750ml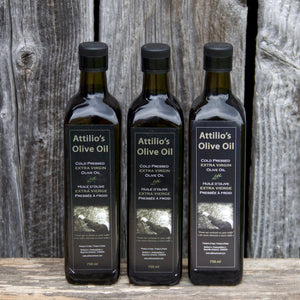 Attillio's Fine Foods offers you only the finest in cold pressed, extra virgin olive oil from their family orchard in Italy!
Carrying on the family tradition of cultivating, harvesting and pressing olives has been a labour of love that our father Attilio has passed on to us, his children. Every year we must travel to Veroli to harvest the olives in the autumn months. We are proud of our Italian heritage, proud to be Canadian and proud to offer our products to you.