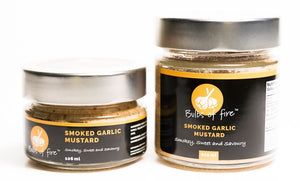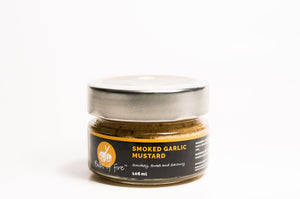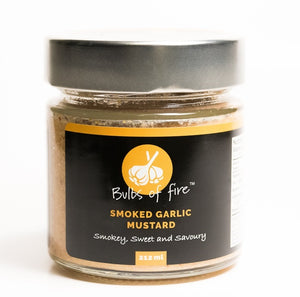 Product image 1

Product image 2

Product image 3

Smoked Garlic Mustard, is a sweet, smoky mustard with honey and lemon juice. We use a mix of dark and yellow mustard seeds and of course of our signature Smoked Garlic.
Traditionally garlic is cold smoked in braids with unpeeled bulbs. The French have been doing this for centuries to extend garlics storage qualities, although the smoke flavour always had a hard time penetrating the wrappers. Bulbs of Fire smokes garlic bulbs that have been cut open or peeled. The smoke flavour is very pronounced and pairs beautifully with the pungency of garlic. Thismustard has been one of best sellers since we introduced it at farmers' markets 5 years ago.
The mustard pairs beautifully with cheese, meat and even salmon! Try a jar on your next cheese board or charcuterie board and discover the feast of flavour that smoked garlic brings to the table. (106ml and 212ml)
Ingredients: Yellow and black mustard seeds, Smoked Garlic, White Vinegar, White Wine, Honey , Lemon Juice.
Garlic farm Bulbs of Fire specializes in heirloom garlics. We have a keen interest in the hotter varieties. Hence the tagline 'garlic that bites back'. At Bulbs of Fire we believe in real food. We believe that food nurtures both the body and the soul. Every bulb of garlic we grow, is meant to be enjoyed as healthy food source. We grow our garlic with an natural, organic approach. Bulbs of Fire is a small family farm business that has sprouted from a homesteading philosophy.