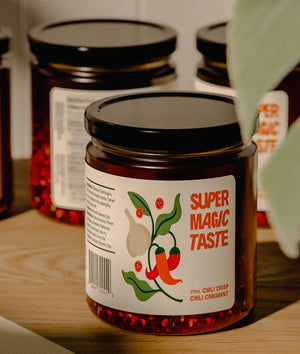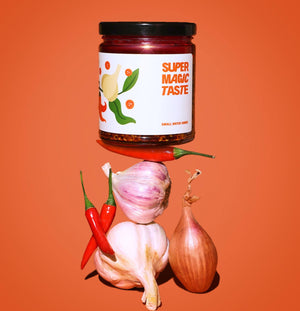 Product image 1

Product image 2

Chili Crisp, Vegan and Gluten Free!
This Chili Crisp is everything you want and nothing you'd expect. Gentle, building heat and a broad spectrum of umami flavours. The story of foods you can add this to is never ending but it stretches across breakfast, lunch, and dinner (and likely a few snacks in between).
This sauce has a fascinating, and global history spanning across China, Taiwan, Japan, and Mexico, all in the pursuit of a balanced and addicting add-it-to-everything sauce. This chili crisp has plenty of texture, subtle heat, deep undertones of savoury caramelized garlic and onion, and layers of sesame, almonds, and soy extracted in oil over a low heat.
This just might be the World's Greatest Chili Crisp!
Ingredients: Canola Oil, Gochugaru Chili, Almonds, Sesame seeds, Onion, Garlic, Tamari (water, soybeans, rice, aspergillus sojae), Sugar, Salt.
Contains: Almonds, sesame, soy.
This product is 100% Vegan, gluten free and contains no MSG. 
Shelf stable, Keep refrigerated after opening
Super Magic Taste started with three foodies on a mission to deliver Super Magic Taste to the world in a meaningful and sustainable way. They were colleagues at Shopify and came together over their love for Super Magic Taste. You could say they moved from SAAS to SAUCE!