Ontario Red Crimson Hot Sauce 250ml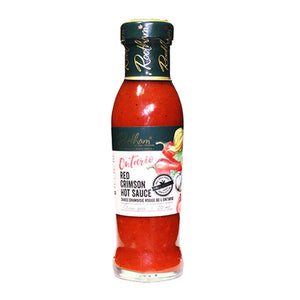 Ontario Red Crimson Hot Sauce 250ml
You've got to try this homegrown Sriracha, made with locally-grown hot peppers and sweetened with raisins and no additional sugar.  Good on rice, noodles or whatever dish needs a tangy topping. Mild enough for the faint of heart!
Ingredients:  Chili peppers, water, vinegar, apple juice (water, apple juice concentrate), raisins, habanero peppers, garlic, sea salt, paprika, onion powder, xanthan gum, allspice.
Good things can sprout from humble beginnings. Founder Marilyn Rootham started Rootham Gourmet Preserves in 1983 as a way to put the bountiful harvest from her family's garden to good use. She started selling her jams and preserves at farmers' markets and to cottagers in Muskoka. Over time, she developed recipes that have become perennial favorites. Rootham's began as a locally owned and operated business and they intend to stay that way.