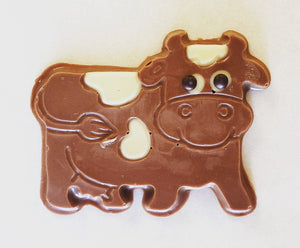 Product image 1

Product image 2

Chelsea Chocolates hand-craft premium Belgian Chocolate. 
Solid chocolate bumble bee (2-1/4" x 2-1/2") available in milk chocolate.
Solid chocolate cow (3" x 2") is available in milk chocolate.
Chelsea Chocolates was started in 1995 by two friends Gail & Sharon, with a desire to create "melt in your mouth" chocolates using fresh cream, butter, high quality ingredients and the finest Belgian chocolate.  In 2010, John and Laurie Thompson bought Chelsea Chocolates, located in Craighurst, Oro-Medonte, just outside Barrie ON. In 2020, John & Laurie decided it was time to retire and move West to be close to family. In September, Dan and Kathy Barber & Megan & Jason Leigh met John & Laurie and immediately felt a connection with them. We began the process of taking over the business and the baton was officially passed to us January 1, 2021. 
It was our intention to continue the great tradition of creating melt in your mouth handmade Belgian chocolates.