Rainbow Popcorn Kernels (690g jar)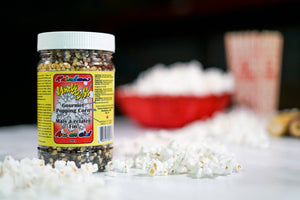 Enjoy all of your Uncle Bob's favourite popping corn layered to perfection in one container 690g.
Five flavours in all, Kernels: White hull-less, Strawberry Red, Shamu Blue, Purple Passion and Mellow Yellow. Enjoy either a white hull-less variety or a blue butterfly variety.
Ontario Popping Corn Company is an Ontario family-run business, which grows exceptional fresh, healthy and organic popcorn. Located down by the shores of Lake Erie, The Ontario Popping Corn Company offers its own 100% Canadian Grown Popcorn, Non-GMO and grown Pesticide Free. Keep in cool dry area at all times for storage.