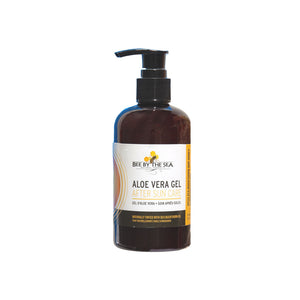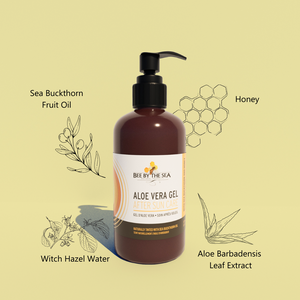 Product image 1

Product image 2

They have combined the benefits of sea buckthorn and honey with another powerhouse ingredient, aloe vera!
Ppacked with vitamins and nutrients that nourish and soothe the skin. The formula is naturally tinted with sea buckthorn oil which gives it a beautiful bright tangerine.  colour. Try it for skin inflammation, sunburns, psoriasis, eczema, acne, age spots & scars.
237 ml / 8 fl oz
Paraben Free, Petroleum Free, Sulfate Free, No Animal Testing
Aqua, Aloe Barbadensis Leaf Extract, Propanediol, Xanthan Gum, Glycerin, Hamamelis, Virginia (Witch Hazel) Water, Alcohol, Hippophae Rhamnoides (Sea Buckthorn) Fruit Oil, Miel (Honey), Allantoin, Tocopheryl Acetate, Caprylhydroxamic Acid, 1,2 Hexanediol
Bee by The Sea Natural Products was founded in 2008 by Andrew Wingrove with the chance discovery of the sea buckthorn berry while travelling abroad.  He quickly appreciated its incredible healing qualities, anti-aging benefits and rich history as a medicinal plant. As an avid beekeeper, Andrew instantly connected that this superfood would be a great companion to another natural powerhouse, honey. After some research and development, Andrew launched a cream unlike anything else on the market and Bee by The Sea was born!