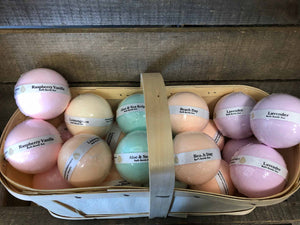 Bath Bombs available in 5 scents:
Aloe & Sea Kelp, Lavender, Lemongrass, Beach day and Raspberry
These big bath bombs add a little something to bath time. It may be for the kids, or just for yourself.  Leaves your skin feeling soft and your body feeling relaxed!
Ingredients: Sodium Bicarbonate, Citric Acid, Cream of Tartar,  Sodium Lauryl Sulfoacetate , Grapeseed Oil, Witch Hazel, Essential Oil/Fragrance Oil
Paraben & Phthalate free!
Located in Midland The Happy Buddah Soap Co. was born after a life altering diagnosis. Going through treatment, and gaining valuable knowledge, Christine started seeking a more natural approach to body products for herself and family that were simply made. 
Christine started with a bar of soap. After all, we use that most often! After many weeks of trial and error, she really found what worked. A simple recipe, with simple ingredients is what she accomplished.