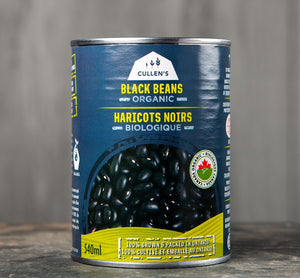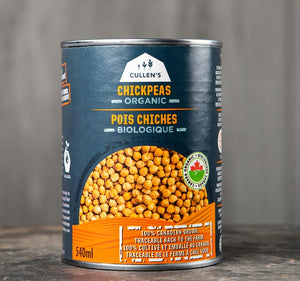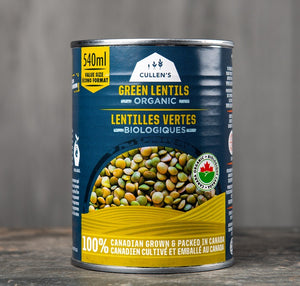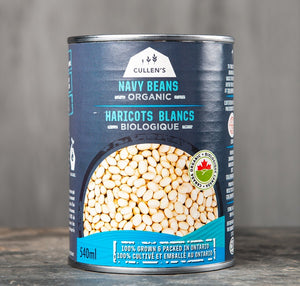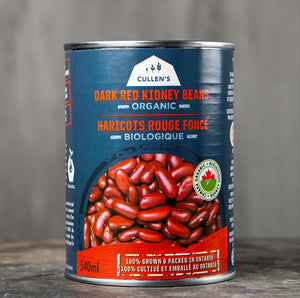 Product image 1

Product image 2

Product image 3

Product image 4
Product image 5

Product image 6

5 varieties of canned beans.  Certified Organic, Canadian Grown!
Dark Red Kidney Beans - A kitchen classic, great in chilis and soups.
Black Turtle Beans - Also known as "black beans", international and versatile.
Navy Beans - Also known as "white beans", reliable and hearty.
Chickpeas - Frequently used in hummus, falafel and chana masala.
Green Lentils - Great in salads, soups, various international cuisines, sauteed with garlic and onions or even on their own – the possibilities are endless
Cullen's canned beans are produced without any salt, colourants, preservatives, or firming agents – only beans and water.
Every can is BPA non-intent ("BPA-NI"), meaning bisphenol-A was not intentionally added during any stage in the manufacturing process.
Ben Cullen grew up in a gardening family and, in pursuit of his love of food, attended agriculture college in the heart of Ontario's farm country: Ridgetown, Ontario. When in Ridgetown Ben became immersed in the culture of Ontario's agriculture industry and forged relationships which are strong to this day. He decided to launch Cullen's Foods to promote a model of food business that connects agricultural producers more directly with consumers.