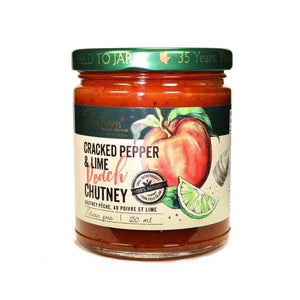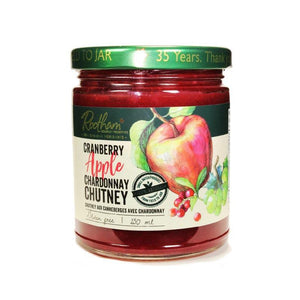 Product image 1

Product image 2

Product image 3

Rootham's Chutneys availbale in 3 varieties
Cracked Pepper Lime Peach Chutney Ingredients: Peaches, sugar, red peppers, onions, apples, cider vinegar, pickled peppers, lime juice, spices, mustard seed, salt.
Cranberry Apple Chardonnay Chutney Ingredients: Cranberries, sugar, onions, apples, vinegar, Chardonnay wine (may contain sulphites), cinnamon.
Mango Chutney Ingredients: Fruit (mango, peaches), Sugar, Onions, Vinegar, Organic Raisins, Organic Ginger, Spices, Salt.
Good things can sprout from humble beginnings. Founder Marilyn Rootham started Rootham Gourmet Preserves in 1983 as a way to put the bountiful harvest from her family's garden to good use. She started selling her jams and preserves at farmers' markets and to cottagers in Muskoka. Over time, she developed recipes that have become perennial favorites. Rootham's began as a locally owned and operated business and they intend to stay that way.