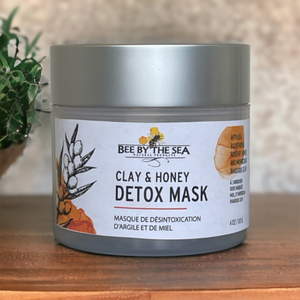 Clay & Honey Detox Mask 113 g / 4 oz
This clay & honey mask is a natural detoxifying treatment to rejuvenate, clarify and draw out skin impurities. This non drying formula is suitable for all skin types and contains Moroccan clay, rosehip and our signature ingredients, sea buckthorn and honey. This gentle clay mask revitalizes dull dry skin and helps maintain a smooth radiant complexion.
Sea Buckthorn: Brightens, moisturizes and helps reduce the appearance of fine lines, wrinkles and other signs of aging.
Honey: Smooths, purifies and helps improve the overall texture and tone of skin.
Moroccan Clay: Exfoliates, detoxifies and softens skin. Also helps to regulate sebum production.
Shea Butter: Rejuvenates, helps improve skin elasticity and deeply nourishes to reveal soft and supple skin.
Paraben Free, Petroleum Free, SLS Free, Phthalate Free, Mineral Oil Free, No Animal Testing
Ingredients: Aqua, Kaolin, Cetearyl Alcohol, Cetearyl Glucoside, Moroccan Lava Clay, Butyrospermum Parkii (Shea Butter), Glycerin, Caprylic/Capric Triglyceride, Olea Europaea (Olive) Fruit Oil, Polyglyceryl-2-Stearate, Hippophae Rhamnoides (Sea Buckthorn) Fruit Oil, Glyceryl Stearate, Miel (Honey), Stearyl Alcohol, Rosa Canina (Rosehip) Fruit Oil, Vitis Vinifera (Grape) Seed Oil, Caprylhydroxamic Acid, Prunus Domestica (Plum) Seed Oil, 1,2 Hexanediol, Xanthan Gum, Propanediol
Bee by The Sea Natural Products was founded in 2008 by Andrew Wingrove with the chance discovery of the sea buckthorn berry while travelling abroad.  He quickly appreciated its incredible healing qualities, anti-aging benefits and rich history as a medicinal plant. As an avid beekeeper, Andrew instantly connected that this superfood would be a great companion to another natural powerhouse, honey. After some research and development, Andrew launched a cream unlike anything else on the market and Bee by The Sea was born!