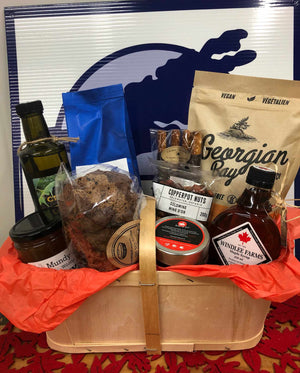 Cedarpoint Sunflower oil
Georgian Bay Coffee
Cookies Freshbaked
Maple Syrup 250ml Windlee Farm
Choc Covered pretzels Chelsea Chocolate
Goldmine Copperpot Nuts
Mundy's Bay Honey 500g
Georgina Bay Granola 
Bulbs Of fire  Jelly or black garlic jam

We use a sturdy gift bag with some colorfull tissue paper for this basket at the moment!. Contact us for custom made gift baskets.
Picture is to give an idea of the basket. During the season products change. The list above with products is as accurate as it can be.