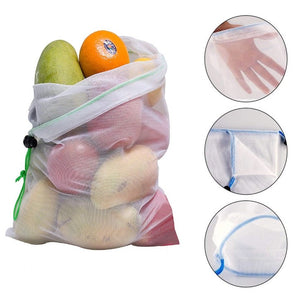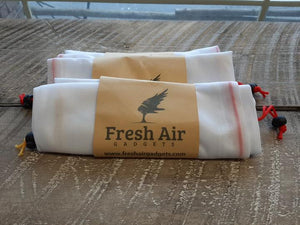 Product image 1

Product image 2

We can all help  and save our environment! Local company Fesh Air Gadgets has Mesh bags available. Use these bags to store products or take them to your grocery store to fill up the mesh bags with veggies instead of using plastic. 
Mesh Bags: These reusable mesh bags have unlimited uses. Not only perfect for fresh produce from your local farmers' market but also for toys, washing delicates, storage, clothing travel packs, carrying beverages, beach, boat, cottage, organization and much more.  Semi-transparent design makes it easy to view the contents inside and is colour coded by size for easy organization. The drawstring and toggle closure keep the bag securely closed. The mesh bags set includes small 11" x 8" (27.94 x 20.3 2cm), medium 11" x 14" (29.94 x 35.56 cm) and  large 11" x 18" (29.94 x 45.72 cm)
Fresh Air Gadgets was born out of the love for Georgian Bay. Owner Margaret Hamelin noticed the rapid increase in plastics in the local waterways. Fresh Air Gadgets sources environmentally friendly products that replace one time use plastics.