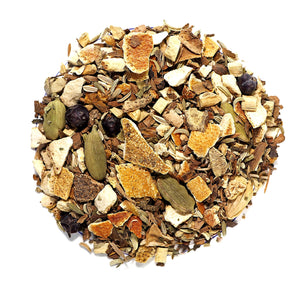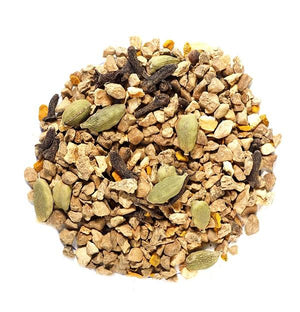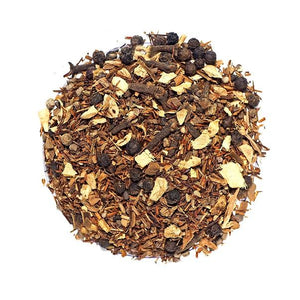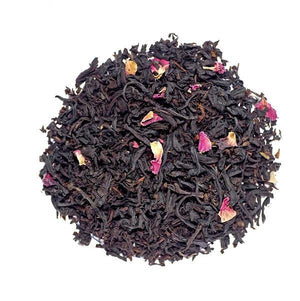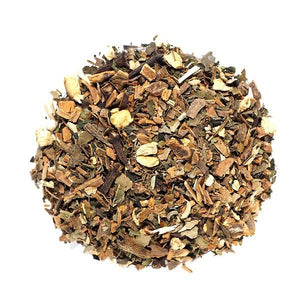 Product image 1
Product image 2

Product image 3
Product image 4

Product image 5

Product image 6

Product image 7
Product image 8

Loose leaf tea 80g per bag 
Makes 40 x 6 to 8 oz cups or 20 x 12 to 14 oz mugs
Anti-Stress Health Tea:
Help yourself to a calming cup of this anti-stress herbal tea.
Ingredients:  Ginger root, orange peel, cardamom, fennel, licorice root, cinnamon.

Creemore Market Blend:
Creemore Market Blend is our signature black tea blend. We invite you to enjoy this blend of bergamot and vanilla - Earl Grey with a creamy finish!  
Ingredients: Organic black tea, organic cornflower petals, natural flavours.

Ivory Cable-Knit Sweater:
This tea is cozy and delightful!  Organic black tea, vanilla and rose petals combine to create the perfect snowy or rainy-day tea.  
Ingredients: Organic black tea, organic vanilla, organic rose petals, natural flavour.

Chai Rooibos:
This is a delightful caffeine-free chai.  It is excellent with milk and can be enjoyed any time of day. 
Ingredients: Rooibos, aniseed, ginger, black pepper, cardamom seeds, cinnamon, cloves, flavour.

Ginger Spice:
Hello ginger!  This herbal blend is bursting with spice and healthy anti-oxidants!
Ingredients: Ginger roots*, cardamom*, cloves*, lemon peel*, turmeric*. (*=organic)
Morning Yoga:
Embrace your inner yogi with this healthy herbal blend!
Ingredients: Cinnamon pieces, ginger, stinging nettle leaves, cloves, sweet blackberry leaves, cardamom seeds, white pepper.
Rebecca Brown and Maggie Morrison are a mother/daughter duo who are passionate tea drinkers! Clearview Tea Company was established in 2012 and we began by selling blends at the Creemore Farmers' Market in Creemore, Ontario. Rebecca is a certified Tea Sommelier and our teas are blended and packed in small batches with the finest ingredients possible!