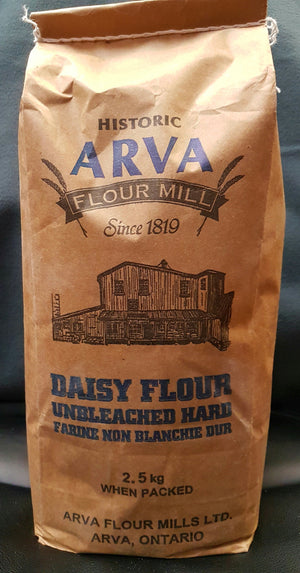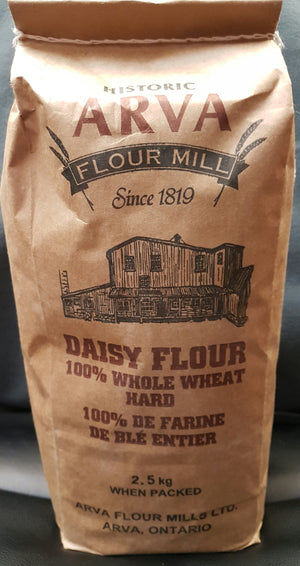 Product image 1
Product image 2

Daisy Flour 2.5 kg
Available in 2 varieties:  Unbleached  Hard or Whole Wheat Hard
Unbleached Hard Flour This flour is made from the center portion of the endosperm, with the bran and germ removed, ( which contains a good percentage of the nutrients such as niacin, riboflavin and thiamine). By law, the the flour must be "fortified " again with these nutrients being added back into the white flour, along with iron. This hard white bread flour is unsurpassed and excellent for making bread. Protein content ranges from 11% to 12% for this flour. This is our "all purpose"  or "bread" flour and is ideal for most of your baking needs at home.
Whole Wheat Hard Flour This flour is made from the entire kernel of our best local hard wheat and is thus higher in dietary fiber and overall nutrient content than white flours. It is often mixed with unbleached hard white bread flour when making yeast breads, to avoid the "heaviness" effect.  Whole wheat flour is a good source of calcium, iron and fiber. 
Natural, with NO PRESERVATIVES, CHEMICALs OR ENHANCERS  ADDED.  This makes natural flours more perishable than the commercially altered flours.  For this reason, we recommend that you store this flour in their  paper bag or an air tight sealed container, in a cool dry environment, preferably in the fridge or freezer if you are not planning to use it within a month or two.
Arva Flour Mill is a genuine vintage mill and not just a name. They produce three different flours the old way from non-GMO wheat grown locally from smaller nearby farms.