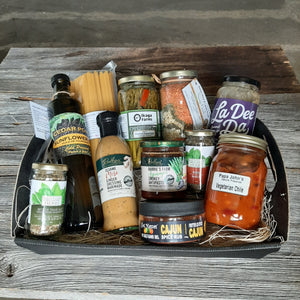 Everything you need to make a delicious dinner and some more!
La Dee Da Gourmet Sauce
Cucina Imera Fettuccine 
Local Soup Girl Soup
Papa Johns Vegetarian Chili
Hot Mamas Spice Rub
Roothams Dressing
Cedar Point Sunflower oil
Heritage Lane  Dried Herb
Heritage Lane Better then Salt
Roothams Antipasto
Olkaga Farms Pickled Aspargus

Baskets we use may vary. Contact us for custom made gift baskets.
Picture is to give an idea of the basket. During the season products change. the list above with products is as accurate as iwe can be.
For $2.50 extra we will wrap it in cellophane for you!