Flattened Lemon Pepper Chicken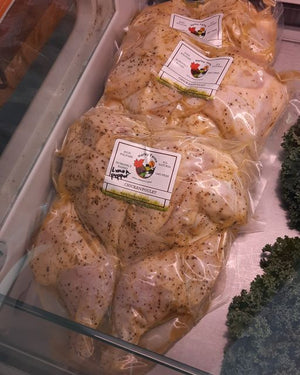 Flattened Lemon Pepper Chicken( 3.4 lbs )
If you're looking for an easy, quick chicken dish with mouth-watering flavour, look no further than Harley Farms Lemon Pepper Flattened Chicken. This dish comes pre-seasoned, with most of the bones removed.
GRASS-FED,  NATURAL ,GMO FREE, FREE RANGE, SUSTAINABLE, LOCALLY RAISED, ENVIRONMENTALLY FRIENDLY
It is all about keeping the stress on the animal to a absolute minimum
Harley Farms, one of the only farms in Ontario to be certified by the SPCA!  SPCA Certified is a food-labeling program that gives the consumers assurance that the food they purchase comes from Canadian farms that raise farm animals to a higher set of standards.