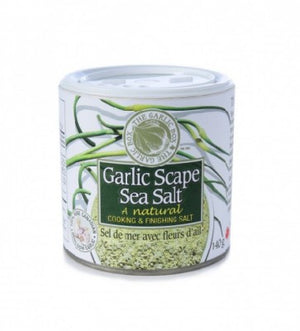 Garlic Scape Sea Salt 205g
A Green Salt - The seasoning to launch 1000 dishes! Enjoy garlic scapes blended with mineral rich sea salt on everything from eggs to fish and potatoes to vegetables. Delicious sprinkled onto popcorn or used to rim your favourite Caesar cocktail! Garlic Scapes, the flowering stalk of Ontario's cold-climate garlic, have a sweet, mild garlic and green onion flavour.
Why Ontario Garlic? Like a fine wine, Ontario garlic provides an incomparable "taste of the place" ​that comes from spending nine months in the soil of fertile farmland...
The Garlic Box is a long-time member of Ontario Garlic Growers Association (OGGA), a proud supporter and contributor to the local Huron County agri-sector and economy, and a corporate member of the World Wildlife Fund.