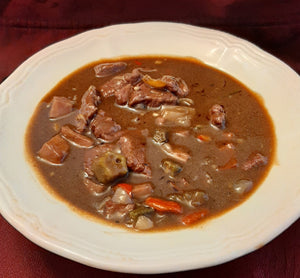 Sausage and Okra Gumbo (500 ml)
A thick stew typical of south Louisiana served over rice (not included) including okra and meat.
Ingredients:  Chorizo Sausage, Vegetable Oil, Onions, Celery, Bell Peppers, Garlic, Thyme, Salt,  Black Pepper, Cayenne & Hot Sauce, Unbleached Organic Flour.
A Taste of SOUL! out of Wasaga Beach features the cuisine of the Southern United States. It is owned and operated by Gwyn  Beaver, a native of north Texas.