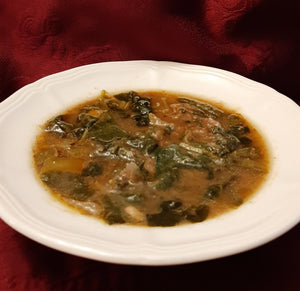 Gumbo Z'herbes  (500 ml) Vegan
A vegetarian gumbo comprised of various leafy greens typically served during Lent in southern Louisiana.
Eat on it's own or serve over rice (not included)
Ingredients: Garlic, Kale, Spinach, Swiss Chard,  Parsley, Bay Leaves, Onions, Celery, Bell Peppers, Salt, Black Pepper, Cayenne and Hot Sauce, Vegetable Oil, Unbleached Organic Flour.
A Taste of SOUL! out of Wasaga Beach features the cuisine of the Southern United States. It is owned and operated by Gwyn  Beaver, a native of north Texas.