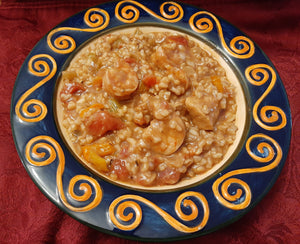 Jambalaya (500 ml)
Rice-based dish typical of southern Louisiana comprised of vegetables and meat.
Ingredients: Chicken, Shrimp, Garlic, Brown Rice, Vegetable Oil, Onions, Celery, Bell Peppers, Thyme, Salt,  Black Pepper, Cayenne & Hot Sauce, Unbleached Organic Flour.
Available for limited time in an extra hot/spicy version because of added Doc Bells' Organic Trinidad 7-Pot Peppers.
A Taste of SOUL! out of Wasaga Beach features the cuisine of the Southern United States. It is owned and operated by Gwyn  Beaver, a native of north Texas.