Maple Roasted Pecans 180g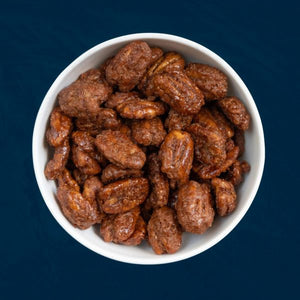 Crisply coated praline pecans with a truly sweet Canadian touch. The perfect topper for salads, ice cream, or baked brie.
Ingredients: Pecans, Sugar, Maple Syrup.
May contain Peanuts and/or other Tree Nuts, Wheat Free, Dairy Free.
Copperpot Nuts began as a garage start-up in rural Coldwater back in 2009. They created their own production facility and launched the brand right here near Coldwater, Ontario. All of their nuts are double roasted and packaged by hand in small batches. Copperpot Nuts sources as many ingredients as they can from local producers.