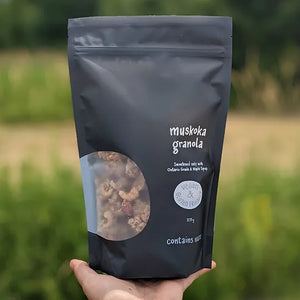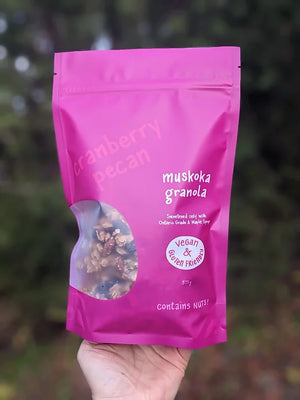 Product image 1

Product image 2

Muskoka Granola 375 g
Available in 2 varieties: Cashew Almond and Cranberry Pecan
No preservatives! Only real ingredients  Vegan and Gluten Friendly! Only sweetened with Maple Syrup!
Cashew Almond: Oats, almonds, cashews,pepitas,coconut oil, maple syrup, coconut, cinnamon & sea salt
Cranberry Pecan: Dried cranberries and pecans make this mixture really sing. Also contains coconut oil, maple syrup, cinnamon, pepitas, almonds and sea salt. 
In an effort to return to eating real food, Muskoka Granola contains no preservatives. It's sweetened only with Ontario grade A maple syrup so has no refined sugar. Just whole almonds, cashews and pumpkin seeds, oats and coconut, coconut oil, cinnamon, and a dash of sea salt. 
You can put it on yogurt, ice cream, fruit, oatmeal, apple crisp, as a salad topper or straight from the bag to your face. 
​Muskoka Granola is handmade in small batches in Bracebridge, Ontario.