Niagara Peach Ghost Pepper 250ml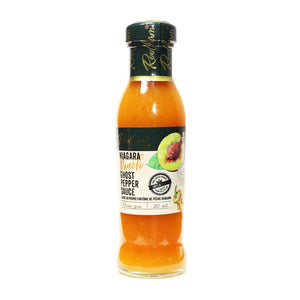 Niagara  Peach Ghost Pepper 250mll
Savour Niagara peach flavor off the top and the mild ghost pepper that sneaks up on you. Guaranteed not to scare off even the most heat-sensitive dinner guest! Great with meat, cheese, appetizers – or scrambled eggs. An award winner!
Ingredients:  Niagara peaches, pure cane sugar, white wine vinegar, onions, ghost peppers, pectin. Contains sulphite.
Good things can sprout from humble beginnings. Founder Marilyn Rootham started Rootham Gourmet Preserves in 1983 as a way to put the bountiful harvest from her family's garden to good use. She started selling her jams and preserves at farmers' markets and to cottagers in Muskoka. Over time, she developed recipes that have become perennial favorites. Rootham's began as a locally owned and operated business and they intend to stay that way.