Pastry Flour Unbleached 2.5 kg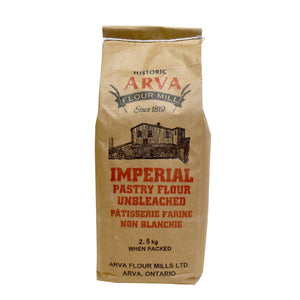 Pastry Flour Unbleached 2.5 kg
UNBLEACHED Pastry Flour from Arva Flour Mills, in Arva, Ontario, on the banks of the Medway Creek, is Canada's oldest continuously operating water powered flour mill and perhaps the oldest in North America. Quality has been their tradition at their mill since 1819 and Arva continues to supply ocustomers with a variety of Natural and Certified Organic flours.
Natural, with NO PRESERVATIVES, CHEMICALs OR ENHANCERS  ADDED.  This makes natural flours more perishable than the commercially altered flours.  For this reason, we recommend that you store this flour in their  paper bag or an air tight sealed container, in a cool dry environment, preferably in the fridge or freezer if you are not planning to use it within a month or two.
Arva Flour Mill is a genuine vintage mill and not just a name. They produce three different flours the old way from non-GMO wheat grown locally from smaller nearby farms.