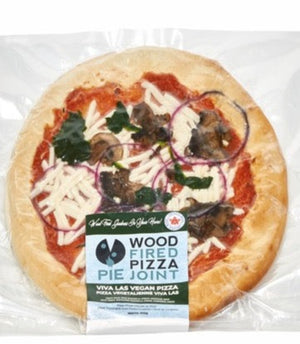 Viva Las vegas Pizza a vegan pizza (1 x 9" pizza, frozen)  new packaging, 1 pizza
Freshly made tomato sauce topped with vegan mozzarella, spinach, mushrooms and red onions. Restaurant style wood fired pizza, ready to eat in under 10 minutes. Locally made in Midland! Hand stretched dough made in-house daily & baked in a wood fire oven and made with local ingredients with no added preservatives. 
Ingredients: flour, vegan mozzarella cheese, canned tomatoes (vine-ripened fresh tomatoes, salt, calcium chloride, naturally derived citric acid) water, salt, olive oil, garlic, active dry yeast(yeast, sorbitan monostearate), pepper, salt,  spinach mushrooms and red onions. 
Pie Wood Fired Pizza is a Canadian family owned business, originated in Barrie and operated since 2010.