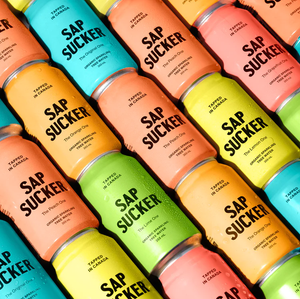 Sapsucker is an organic sparkling tree water. Lightly carbonated with a 'subtle bubble'. Sapsucker is naturally hydrating and sustainably harvested from Canadian maple trees. Unlike water from other sources, tree water is naturally sweetened with organic maple sap and supports immune health with 46 nutrients, minerals and electrolytes. Sapsucker offers a clear and unexpected refreshing taste.  The subtle bubble and slightest hint of sweetness make it delicious, easy to drink and irresistibly refreshing. Sapsucker is plant-based, made in Ontario, certified organic, with no artificial sugar. Sapsucker is tapped in Canada from a sustainable source.
We have six flavoursavailable: The Original One, The Lemon One, The Lime One, The Orange One, The Grapefruit One, and The Peach One.
Grab a Sapsucker, and drink easy.
Ingredients original: Ingredients: Organic Maple Water, Citric Acid
Ingredients flavoured ones: Organic Maple Water, Organic Natural Flavour, Citric Acid