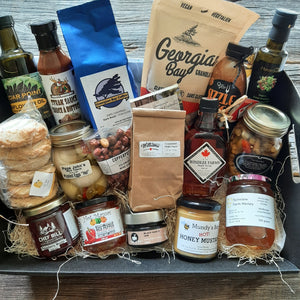 Gift Basket filled with goodies from our producers of Simcoe County!  This basket contains an abundance of goods locally produced.
Bulbs of Fire Black Garlic Jelly
Hot Mammas Jelly
Copperpot Nuts Goldmine
Mundy's Bay Cinnamon Honey
Geogian Bay  Honey
Windlee Maple Syrup 250 ml
Williams farm Maple sugar 1/2 lbs
Crazie Mooskies original BBQ sauce
Papa Johns pickled eggs
Taste of Soul Chow wow or Pickled Okra and a pepper
Georgian Bay Granola
Chef Bill Drunken Jam
Quiet Valley Sizzle Sauce
Georgian Bay Coffee Coffee
Chelsea Chocolate Chocolate bar
Cookies from Freshbaked
Cedarpoint Sunflower Oil
Chocolate Covered Pretzels Chelsea Chocolates
Baskets and products we use may vary. Contact us for custom made gift baskets.
Picture is to give an idea of the basket. During the season products change. the list above with products is as accurate as iwe can be.
For $2.50 extra we will wrap it in cellophane for you!