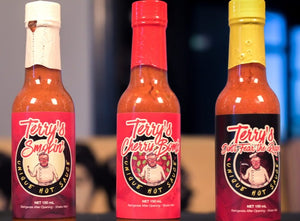 It's All About the Flavour!
Available in 6 varieties in 150ml bottles
Terry's Original Unique Hot Sauce: Terry's Original Unique Hot Sauce is a medium hot sauce. This sauce is very flavourful with hints of lemon and horseradish. Dairy Free/Gluten Free
Karen's Tropical Heat Unique Hot Sauce: Medium Hot - Just the right combination of sweet and heat. This sauce has mango for the fuity sweet, pineapple for the tartness,  Wildflower Honey for the sweetness and Habanero peppers for the heat. You will fall in love with this sauce as soon as you taste it.  Dairy Free/Gluten Free
Terry's Smokin Unique Hot Sauce: Medium Hot Terry's Smokin' Unique Hot Sauce is  is very flavourful like te original sauce with a very nice and subtle hint of smoke that comes from the jalapeño peppers that we smoke with hickory. Dairy Free/Gluten Free
Festive Cranberry Medium Hot - We created this sauce originally for the Bala Cranberry Festival. It has the tartnesss of cranberries from Muskoka Lakes Farms and the stronger taste of an amber Maple Syrup from "Carter's Maple Syrup" Not too hot. Great on a turkey sandwich at Thanksgiving or Christmas or mix it in with your cranberry sauce and gravy.
Terry's Cherry Bomb Unique Hot Sauce: This Sauce is HOT! Terry uses Wiri-Wiri peppers ,imported from Guyana, giving the sauce a deliciously unique fruity flavour with sharp tomato undertones. Terry's favourite! Dairy Free/Gluten Free
Terry's Don't Fear The Reaper Unique Hot Sauce: Our Don't Fear the Reaper Unique Hot Sauce is SUPER HOT! The Carolina Reaper pepper is the hottest pepper on the Schoville Scale at 2.2 Million SHU. This pepper combined with the original recipe plus some scotch bonnet peppers also, makes for a tasty super hot sauce that is the sweetest super hot sauce you will find around! Dairy Free/Gluten Free 
Terry's love of chicken wings is the primary reason that he decided to develop his own recipe. They supply many restaurants and shops in Barrie and surrounding areas. We can be found at local markets and events happening in Ontario Canada.