Traditional Balsalmic Vinegar 375ml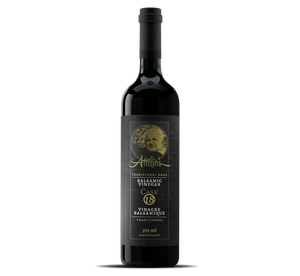 Traditional Style Dark Aged Balsalmic Vinegar 375ml
This balsamic vinegar from Modena is so smooth you could sip it after dinner. Produced using the Solera Method, it is aged for up to 18 years in a variety of seasoned wooded barrels. The 4% acidity ensures a rich, complex and dense balsamic. It pairs perfectly with any of our olive oils! Use it as a drizzle on aged cheeses, cured meats and fresh fruit, or as a dessert sauce for vanilla ice cream and strawberries. Makes a great marinade or a fabulous finish on salmon. And of course, perfect with fresh greens and vegetables.
Attillio's Fine Foods offers you only the finest in cold pressed, extra virgin olive oil from their family orchard in Italy!
Carrying on the family tradition of cultivating, harvesting and pressing olives has been a labour of love that our father Attilio has passed on to us, his children. Every year we must travel to Veroli to harvest the olives in the autumn months. We are proud of our Italian heritage, proud to be Canadian and proud to offer our products to you.