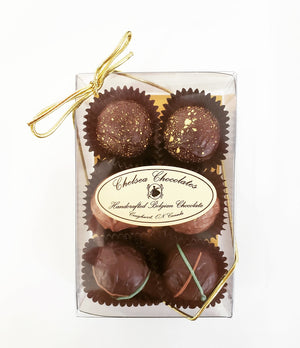 Chelsea Chocolates hand-crafted premium Belgian Callebaut chocolate. Who doesn't love truffles for their smooth creamy ganache filling (chocolate, cream and real flavouring).  Flavours are changing depending on season and availability. 6 truffles in a box
Truffle Ingredients: (every box has 3 varieties)Callebaut Belgian chocolate (sugar, cocoa butter, whole milk powder, cocoa mass, soy lecithin, natural vanilla flavouring) cream, Grand Marnier, mint oil, champagne, cherry, key lime oil, butter, cognac, pina colada, irish cream oil, amaretto oil, maple syrup, hazelnut, coconut, olive oil, brandy, bourbon, Bailey's Red Velvet, chai tea, raspberry, cointreau, orange, lemon, seasalt, invertase.

May contain traces of nuts, sulphites, milk, wheat, eggs, cereals, soya beans.
Chelsea Chocolates was started in 1995 by two friends Gail & Sharon, with a desire to create "melt in your mouth" chocolates using fresh cream, butter, high quality ingredients and the finest Belgian chocolate.  In 2010, John and Laurie Thompson bought Chelsea Chocolates, located in Craighurst, Oro-Medonte, just outside Barrie ON. In 2020, John & Laurie decided it was time to retire and move West to be close to family. In September, Dan and Kathy Barber & Megan & Jason Leigh met John & Laurie and immediately felt a connection with them. We began the process of taking over the business and the baton was officially passed to us January 1, 2021. 
It was our intention to continue the great tradition of creating melt in your mouth handmade Belgian chocolates.