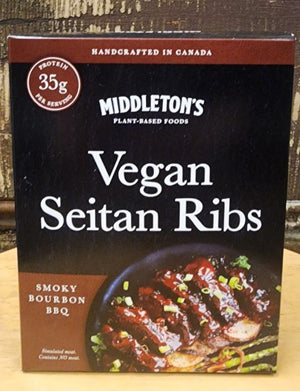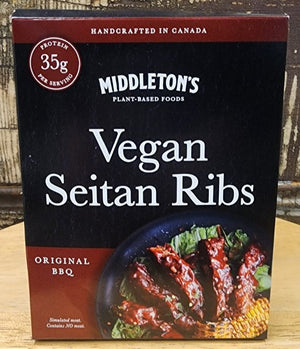 Product image 1

Product image 2

Product image 3

Vegan Seitan Ribs - 400g 3 varieties Original BBQ , Smokey Bourbon or Spicey Korean BBQ
Vegan, seitan and jackfruit "boneless rib rack" covered in a delicious and tangy homemade original BBQ sauce or a Spicy Korean BBQ sauce. Loaded with protein, super simple & fast to prepare on a grill orunder a broiler! The perfect, hearty plant-based main. Handcrafted, clean and real-food ingredients.

Seitan Ribs: Young Green Jackfruit, Wheat Gluten (Non-GMO), Water, Soy Sauce (Non-GMO), Spices, coconut oil, Chickpea Flour, Organic nutrient blend (Organic sprouted millet, organic sprouted buckwheat. Organic flax, dehydrated fruit & mushroom blend [oranges, bananas, papaya and Shiitake mushroom), Nutritional yeast, Sea Salt.
Original BBQ Sauce Water, Sugars (sugar, brown sugar, molasses), Onion, Crushed Tomatoes, Apple Cider Vinegar, Spices, Canola Oil, Garlic, Sea Salt
Spicy Korean BBQ Sauce: Sugars (sugar, brown sugar), Orange Juice, Onion, Non-GMO Soy Sauce, Garlic, Apple Cider Vinegar, Gochujang Korean Chili Paste, Sesame Oil, Sea Salt, Kochukaru (chili spice), Black Pepper
Smoky Bourbon BBQ Sauce: Water, Crushed Tomatoes, Onion, Sugars (sugar, brown sugar, molasses), Bourbon, Apple Cider Vinegar, Canola Oil, Garlic, Liquid Smoke (Water, Natural Hickory Smoke Flavor), Sea Salt, Paprika, Dried Jalapeños, Black Pepper
Contains Soy, Wheat and Sesame
Middleton's - a Plant-Based Food company in Hamilton, Ontario. A brother - sister team committed to creating new and super delicious, cutting-edge plant-based food!  Middleton's is an elevated plant-based food experience for everyone!