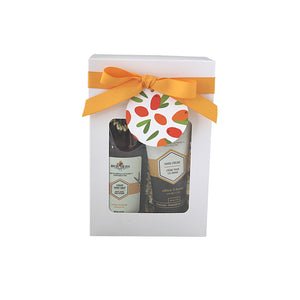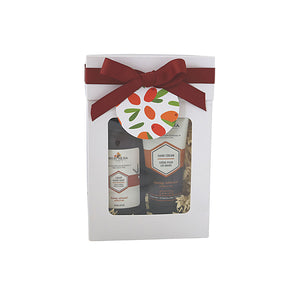 Product image 1

Product image 2

Product image 3

This useful gift set features Bee By The Sea hand soap and rich hand cream! The matching set is packaged in a bright white box and paired with ribbon and gift tag. Great way to say thank you and to show your appreciation!
Hand Cream – 60 ml / 2 0z
Hand Soap – 237 ml / 8 oz
Available in 3 scents: Honey Almond, Citrus & Honey and Lavender & Cedarwood
Bee by The Sea Natural Products was founded in 2008 by Andrew Wingrove with the chance discovery of the sea buckthorn berry while travelling abroad.  He quickly appreciated its incredible healing qualities, anti-aging benefits and rich history as a medicinal plant. As an avid beekeeper, Andrew instantly connected that this superfood would be a great companion to another natural powerhouse, honey. After some research and development, Andrew launched a cream unlike anything else on the market and Bee by The Sea was born!