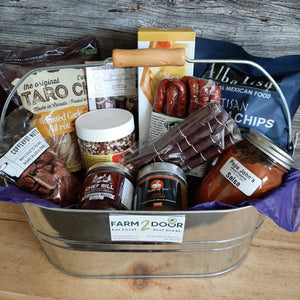 Munch away on local treats!
Gift basket contains the following:
Mayon Foods Taro Chips 
Chef Bills Drunken Jams
Copperpot Nuts Maple Roasted Pecan
Georgian Bay Chocolate Bar
Gourmet Rainbow Popcorn Jar
Alba Lisa Tortilla Chips
Pork Pepperettes Falkenridge
Papa Johns Salsa Sauce
Bulbs Of Fire Jelly 212ml
Cracked Wheat Crackers
Chelsea chocolate pretzels or nibbs(4 pack) 

Actual basket used may vary. Contact us for custom made gift baskets.

For $2.50 extra we will wrap it in cellophane for you!