Tiny Township Gift Basket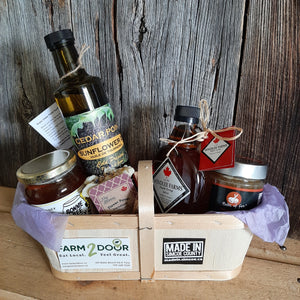 Basket contains only products made by producers from Tiny Township!
Cedar Point Sunflower oil
Maple Syrup 250ml Windlee Farm
Tiny Bubbles Handcrafted soap bar
Boney Bee Honey 500g
Bulbs Of fire  Jelly 212ml

Baskets we use may vary. Contact us for custom made gift baskets.
Picture is to give an idea of the basket. During the season products might change. The list above with products is as accurate as it can be.
For $2.50 extra we will wrap it in cellophane for you!